Description
- TWO STEPS AND AWAY -
With effortless launching and a smooth, relaxed feel, the DUAL 2 performs in harmony with pilot and passenger
Effortless two step launch
Essential big ears blocker
Replaceable trimmers
Smooth relaxed feel
Two sizes 38m² and 42m²
INFO
The DUAL 2 is an entirely new design. It took us years of development and many prototypes to perfect, but we believe it is a significant leap forward from the original Dual, which itself was a benchmark EN-B tandem. It's a pleasure to launch and to fly, with light, intuitive BGD handling and an outstanding sink rate, making it a 'top of the stack' performer. Big ears are effective and easy to use, and we've added a new big-ears locking system.

We know commercial pilots need tandems that last well so we've made the DUAL 2 robust and strong, with durable cloth throughout and all-sheathed Kevlar lines. The trimmers have easy-grab plastic balls and easy to replace webbing.

We recommend the 38m² - medium size to pilots who weigh less than 75kg, naked.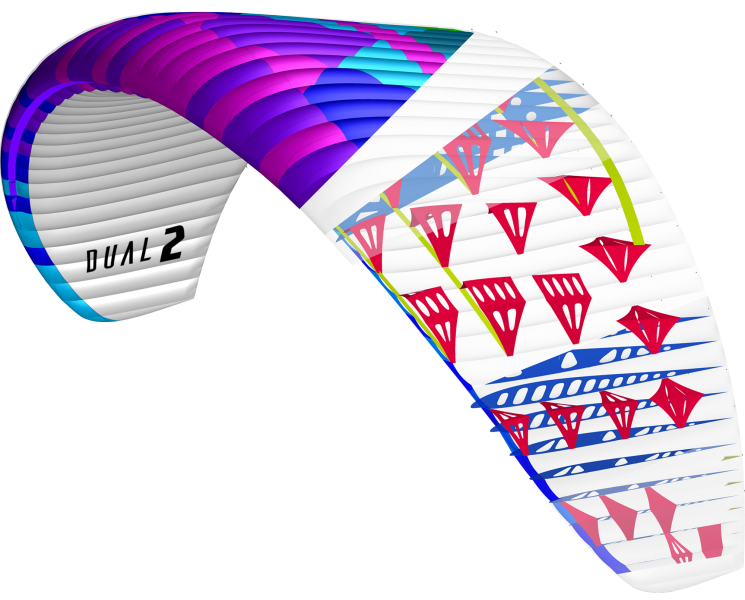 SPECS
 
M
L
LINEAR SCALING FACTOR
0.95
1
PROJECTED AREA (M²)
32.3
35.7
FLAT AREA (M²)
37.8
41.8
GLIDER WEIGHT (KG)
7.5
7.9
TOTAL LINE LENGTH (M)
416
436
HEIGHT (M)
9.3
9.8
NUMBER OF MAIN LINES (A/B/C)
3/4/3/3
CELLS
52
FLAT ASPECT RATIO
5.5
PROJECTED ASPECT RATIO
4.1
ROOT CHORD (M)
3.31
3.5
FLAT SPAN (M)
14.5
15.2
PROJECTED SPAN (M)
11.5
12.1
TRIM SPEED (KM/H)
40
TOP SPEED (KM/H)
52
MIN SINK (M/S)
1
BEST GLIDE
9
EN WEIGHT RANGE (KG)
100-200
120-220
CERTIFICATION
TANDEM
TARGET
Remember that feeling, the first time your feet leave the ground and you are soaring, feet in the clouds, viewing the world from a different perspective? If you could bottle that feeling and share it around … that's what the DUAL 2 is for – sharing the joy of flight!

A clean take-off is absolutely critical to a safe and successful tandem flight. The DUAL 2 takes the load quickly and the short run required is a huge step forward for passenger safety. We've made the Dual 2 in two sizes: the 42m² will suit most, and the 38m² is for all-up weights below 200kg.
BRUCE'S NOTES
With this project I wanted to make a tandem that is ridiculously easy to launch as not all passengers are willing runners, but I didn't want to sacrifice that light and sensitive handling that was so highly praised in the original DUAL. To achieve this we designed a whole new single plastic shark nose just for this wing. In the air the handling is a delight and thermalling is outstanding. The whole team are very happy with the outcome. It's a pleasure to fly, and a dream to launch: two steps and away!
COLORS
MATERIAL
| | |
| --- | --- |
| TOP SURFACE | Porcher Skytex 38/m² |
| INTERNAL STRUCTURE | Porcher Skytex 40g/m² |
| RISERS | 20mm Kevlar/Nylon webbing |
| PULLEYS | Harken and Spenger |
| TOP LINES | Liros DC100 & 160 |
| MIDDLE LINES | Liros TSL140, 220, 280 |
| LOWER LINES | Liros TSL 500, 380, 280, 220 |
| NOSE REINFORCING | Plastic wire 2,5mm and 2,0 mm |
| BOTTOM SURFACE | Dominico D20 36g/m² |
PACKAGE INCLUDES
Paraglider / Rucksack / Replacement Trimmers / Repair kit / Stuff sack / Riser bag / Compression strap / BGD T-shirt / USB stick with manuals / BGD stickers
For more info on the Dual 2 click HERE.
Payment & Security
Your payment information is processed securely. We do not store credit card details nor have access to your credit card information.