Description
- BE THE PREDATOR -
For lone-wolf adventurers or XC gurus, the LYNX offers top performance in a bite-sized package.
Cord cut billow (CCB)
Maximised unsupported cells
Post C-band
Progressive stability
Strong shark nose
Weight-optimised ribs

INFO
Based on the CURE, The LYNX is a streamlined, fully-fledged XC predator. Her refined simplicity makes her faster, lighter, more elegant and competitive while the EN-C certification offers reassurance for experienced pilots.

The LYNX has new BGD LITE risers using three strands of 13mm webbing and a performance-optimised speed system. With a new Edelrid Magix pro 8000U comp line set and Porcher Sport's new laterally reinforced Skytex 32g/m² lightweight cloth, the LYNX is at the leading edge of the game. She is cunning, agile, and will take you to the top of the food chain.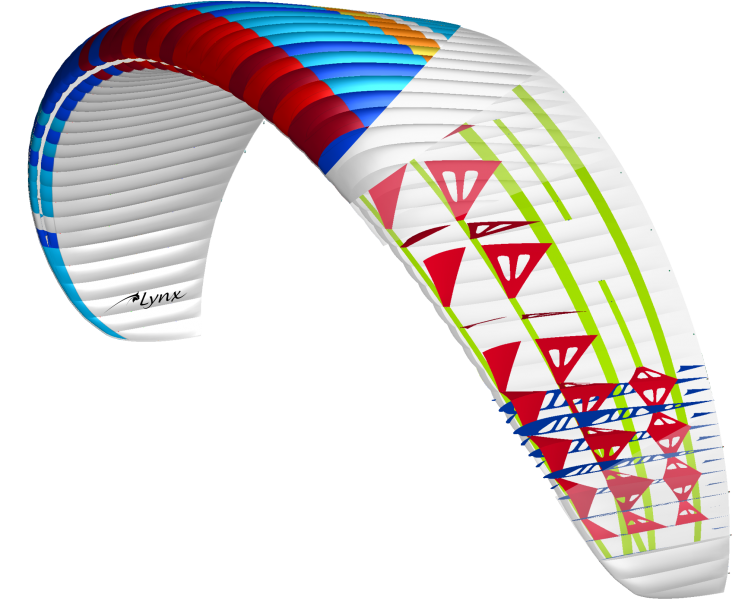 SPECS
 
S
M
ML
L
LINEAR SCALING FACTOR
0.96
1
1.04
1.08
PROJECTED AREA (M²)
17.7
19.2
20.8
22.4
FLAT AREA (M²)
21.2
23
24.9
26.8
GLIDER WEIGHT (KG)
3.6
3.9
4.2
4.5
TOTAL LINE LENGTH (M)
225
244
264
285
HEIGHT (M)
7.1
7.6
7.9
8.2
NUMBER OF MAIN LINES (A/B/C)
3/3/4
CELLS
60
FLAT ASPECT RATIO
6.8
PROJECTED ASPECT RATIO
4.9
ROOT CHORD (M)
2.2
2.3
2.4
2.5
FLAT SPAN (M)
12
12.5
13
13.5
PROJECTED SPAN (M)
9.3
9.7
10
10.4
TRIM SPEED (KM/H)
40
TOP SPEED (KM/H)
57
MIN SINK (M/S)
1
BEST GLIDE
11
EN WEIGHT RANGE (KG)
60-80
75-95
90-110
105-123
CERT
   EN/LTF-C
TARGET
It's a wild quest, flying for days away from humanity; pushing your limits, making your own decisions, immersed in nature and working with the elements to slink through the landscape using the power of the air. Whether yours is a lone journey of self-discovery, or one that is silently observed by thousands, the LYNX is for serious athletes and experienced pilots who want to get out there in nature and experience the thrills of adventure flying first-hand.
BRUCE'S NOTES
Are you the diehard pilot that is on the hill rain or shine, or do you pick and choose your days? Does your launch look like a putting green or the surface of Mars? One glider can't be perfect for everything so I designed the BGD LITE collection for pilots who want less weight and improved portability with added performance.

Designing the highest performing sports class glider in the BGD LITE collection was interesting, challenging, and rewarding since the improvements are clear. It was originally for the Red Bull X-Alps but quickly evolved into a more versatile glider. I started with the CURE template and reworked it almost from the ground up, simplifying, re-calculating, and using all the latest materials. All of the BGD range follows this design philosophy and the BGD LITE collection just pushes it a little harder.
PACKAGE INCLUDES
Paraglider / Rucksack / Stuff sack / Riser bag / Compression strap / BGD T-shirt / USB stick with manuals / BGD stickers
For more info on the Lynx click HERE.
Payment & Security
Your payment information is processed securely. We do not store credit card details nor have access to your credit card information.