Description
- WALK ON THE WILD SIDE -
Lightweight, fun and performant, the RIOT is your ideal companion for vol-biv missions, overseas travel or home-site playtime.
INFO
Around 20% lighter than our LTF/EN-B rebel PUNK, the RIOT is a fun-driven freedom-seeker of a wing. Under its vibrant chaos of wild pixel colours are some serious design features: Shark nose, Chord Cut Billow, Eyes Wide-Open safety and Progressive Stability make the RIOT a high-performing, informative glider with fun handling and great agility.

We've also extended the weight ranges of most sizes, so you can load up, head off and explore the skies on long adventures.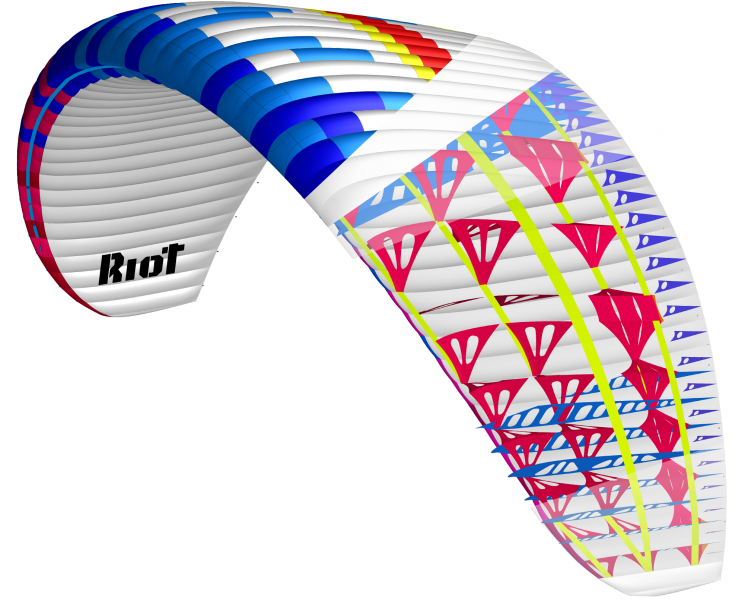 TARGET
The PUNK's lighter twin, the RIOT is for fun-seeking rebels looking to lighten the load for the ultimate freedom of the skies. The straight-talking RIOT tells you about the air, so you're in control, while BGD handling, mid-B safety and high-B performance are the tools you need to be yourself and do your own thing. Break free, explore the skies and carve your own path. Have a Riot!
FEATURES
OPTIMIZED LINE LAYOUT
Over the years BGD has perfected their system of optimising the line layout of their wings. We use numerous equations, software, and the plain old guess-and-check method to build their line layouts. The result is simple: fewer lines making stronger, faster gliders.
MAXIMISED UNSUPPORTED CELLS
Optimised unsupported cell groups are designed to match the span-wise load distribution influenced by the line layout. Coupled with a strong internal structure, the line layouts that create more span-wise tension can support more unsupported cells. While maintaining a homogenous wing, this helps to minimise line consumption reducing drag thus improving performance.
WEIGHT-OPTIMISED RIBS
BDG has maintained the strength and rigidity of the ribs while removing unnecessary material. This means less weight for no increase in cost or reduction in strength of the wing. The hole positioning and size depends on the loads taken locally by the sail, and it is thanks to recent developments in their software that it is now possible to accurately calculate this.
STRONG SHARK NOSE
An ultra-aggressive shark nose optimises stability at all speeds. Not all sharks are created equal and BGD's shark noses are very aggressive, maximising the effects of the technology.
CORD CUT BILLOW (CCB)
Cord Cut Billow technology has been developed to improve the form friction, glider stability and overall performance of their paragliders. Two seams run chord-wise across the top panels of the leading edge to accommodate the panel ballooning that happens when the wing is inflated. Up to five centimetres of excess material is created on the sides of an inflated flat panel bending over a wing profile. Cord Cut Billow technology absorbs the material with a 3D panel resulting in fewer ripples and improved rib profile shape and stability.
POST C-BAND
BGD has added a Post-C band running along the top surface which seamlessly moves down to the bottom surface at the tip, connecting directly to the last line cascade. Instead of putting heavy plastic rods above the C lines BGD use this band to counter the common flip-up ripple caused when applying a little brake. The problem with paragliders is when a little brake is applied the cupping of the trailing edge creates lift which often buckles the profile near the Cs. BGD has solved this problem with the Post-C Band, an eloquent, lightweight, clean and volume reducing solution.
PROGRESSIVE STABILITY
Progressive stability has been designed into all their gliders to help pilots feel turbulence and avoid it. This makes for safer and more comfortable flying.
TRIPLE FINGER DIAGONALS
Across the whole chord of the profile, we have designed three-piece diagonal supports that pass through the holes in other ribs. They ensure structural integrity by avoiding cloth bias from the ribs and creating a more solid wing even when brake is applied. This is particularly important near the trailing edge since the profile is thin and the diagonal ribs are shallow supporting higher loads.
EYES WIDE-OPEN SAFTEY
Gliders that talk are safer. Safer gliders make pilots perform better. Better performing pilots fly further. Further flying pilots are happier pilots. Eyes Wide-open Safety produces happier pilots.
FLYING LEVEL/STYLE
SPECS
Sizes 
XS
S
M
ML
L
Linear scaling factor
0.92
0.96
1
1.04
1.08
Project area (M²)
17.8
19.5
21.2
22.9
24.6
Flat area (M²)
21
23
25
27
29
Glider weight (KG)
3.7
3.9
4.2
4.4
4.7
Total line length (M)
204
224
243
262
282
Height (M)
6.7
7
7.3
7.6
7.8
Number of main lines (A/B/C)
3/4/3
Cells
54/102
Flat aspect ratio
5.4
Projected aspect ratio
4.1
Root chord (M)
2.5
2.6
2.7
2.8
2.9
Flat span (M)
10.7
11.2
11.6
12.1
12.5
Projected span (M)
8.5
8.9
9.2
9.6
9.9
Trim speed (KM/H)
39
Top speed (KM/H)
55
Min sink (M/S)
1
Best glide
10.7
 In-fight weight range (KG)
50-65
60-80
75-95
88-108
100-125
Certification
EN/LTF-B
COLORS
BRUCE'S NOTES
I am very happy with the RIOT because I have managed to make it a real pilots' glider. The lighter weight makes for lighter and even more direct handling and the pack size is also very low as we are one of the few brands not putting plastic reinforcing in the back part of the sail. Despite this the sail is super clean on top between the brakes, which is achieved by careful use of sail shape and straps, rather than heavy reinforcing.

Extended certified ranges are available on 4 sizes of RIOT and are XS=50-70, S=60-95, M=75-100, ML=88-113.

Extended weight ranges are there for insurance reasons. They enable pilots to fly above the ideal weight range and still fly insured. They should not be considered at all when choosing your correct glider size.
PACKAGE INCLUDES
Paraglider / Rucksack / Speed bar / Repair kit / Stuff sack / Riser bag / Compression strap / BGD T-shirt / USB stick with manuals / BGD stickers
For more info on the Riot click HERE.
Payment & Security
Your payment information is processed securely. We do not store credit card details nor have access to your credit card information.