Description
- GROW YOUR SKILLS -
Great pilots were first great ground handlers. Learn to kite, grow your skills.
INFO
The SEED is our affordable premier training paraglider, made for ground-handling only. The SEED was developed from the EN-B EPIC, and acts and feels like a full-size paraglider. It is made from durable 50g cloth and has three risers. It's a fun accessory for parawaiting at take-off, practicing kiting, or just goofing around like Spiderman.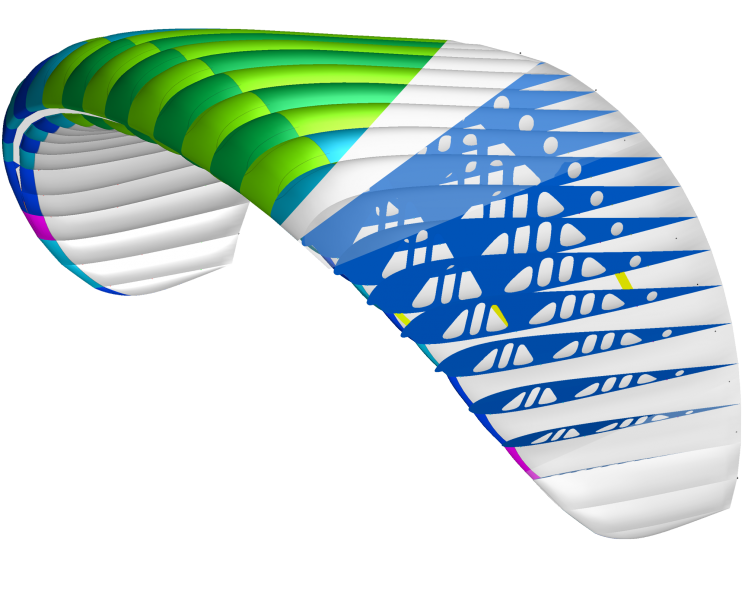 TARGET
Blown out? Grab a SEED and refine your skills! Ground-handling is never a waste of time, even for professionals. You can learn essential skills that directly relate to in the air flying. Deflations, stalls, brake pressure and active piloting can all be practiced while kiting the SEED safely on the ground.
FEATURES
WEIGHT-OPTIMISED RIBS
BGD has maintained the strength and rigidity of the ribs while removing unnecessary material. This means less weight for no increase in cost or reduction in strength of the wing. The hole positioning and size depends on the loads taken locally by the sail, and it is thanks to recent developments in our software that it is now possible to accurately calculate this.
SNAP LOCKS
Snap Locks are lightweight, compact attachments that effortlessly connect the brakes to the risers. A small focused magnet inside the catch and an internal locking system hold the handle in place, releasing only if the handles are pulled down towards the pilot. This unique design feature means the handles don't fall off while kiting, packing, or performing manoeuvres. The Snap Lock system solves many of the problems associated with press-studs and magnets.
 STRONG SHARK NOSE
An ultra aggressive shark nose optimises stability at all speeds. Not all sharks are created equal and BGD's shark noses are very aggressive, maximising the effects of the technology.
CORD CUT BILLOW (CCB)
Cord Cut Billow technology has been developed to improve the form friction, glider stability and overall performance of our paragliders. Two seams run chord-wise across the top panels of the leading edge to accommodate the panel ballooning that happens when the wing is inflated. Up to five centimetres of excess material is created on the sides of an inflated flat panel bending over a wing profile. Cord Cut Billow technology absorbs the material with a 3D panel resulting in fewer ripples and improved rib profile shape and stability.
TECHNICAL DATA
Size 
14
Linear scaling factor
0.78
Projected area (M²)
11.9
Flat area (M²)
14
Glider weight (KG)
2.7
Total line length (M)
194
Height (M)
5.3
Number of main lines (A/B/C)
3/4/3
Cells
31
Flat aspect ratio
4.4
Projected aspect ratio
3.2
Root chord (M)
2.2
Flat span (M)
7.9
Projected span (M)
6.3
Trim speed (KM/H)
45
Top speed (KM/H)
45
Min sink (M/S)
2
Best glide
5
In-flight weight range (KG)
30-120
Certification
COLORS
Standard colors, Blaze, Inferno, Forest, Tundra
DESIGNER NOTES
I kept the design of the SEED as simple as possible, while incorporating the most essential and up-to-date designs features. A strong shark nose, CCB, 3D panel shaping on the lower surface and countless other features make the SEED feel like a normal paraglider. I always say, "good ground-handlers make good pilots" and the SEED was produced to teach the most essential skills in a glider small enough to manage even in strong winds. PACKAGE INCLUDES: Paraglider / Repair kit / Stuff sack / Riser bag / Compression strap / BGD T-shirt / BGD stickers
For more info on the Seed click HERE.
Payment & Security
Your payment information is processed securely. We do not store credit card details nor have access to your credit card information.